Downhill skiing
Six ski lifts with a length of 150 to 900 m, a cableway with a total capacity of 3,500 people per hour and 5,060 meters of downhill tracks of all types of difficulty await you at the Telnice Ski Area.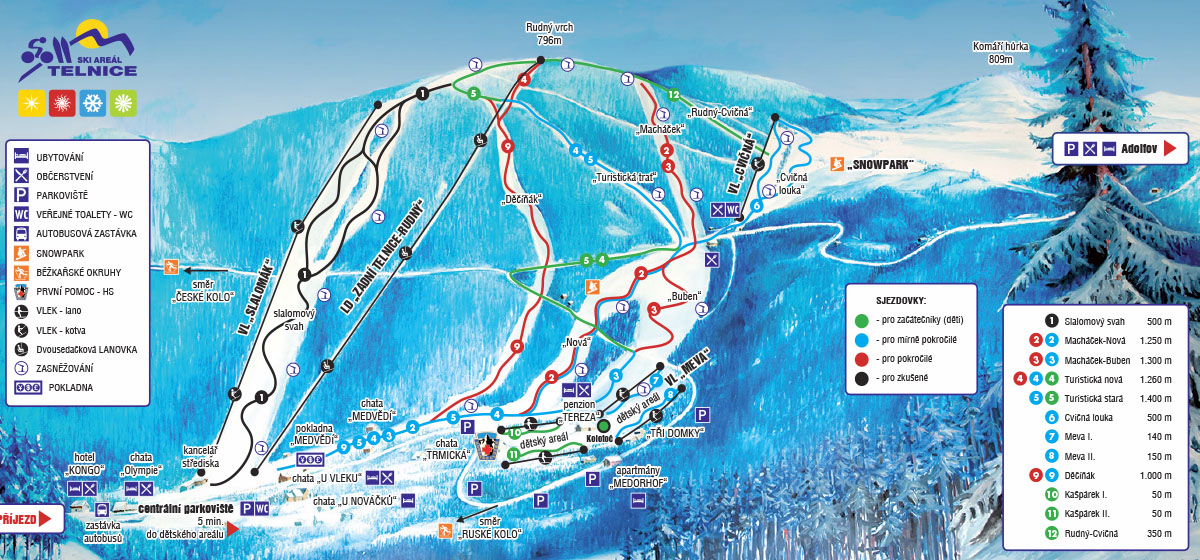 Cross-country skiing in Telnice
The Telnice ski center is a part of the Ore Mountains White Trail (Krušnohorská magistrála). The total route of the Ore Mountains White Trail, including tracks in individual resorts, is 252 km. The route leads from the very west of the republic from Cheb to Sněžník u Děčína in North Bohemia, where it connects to the Elbe route. The center is connected in favorable conditions to Komáří vížka and then to Cínovec or to the cross-country trails in Adolfov (2, 3, 4, 5 and 7 km trails). In recent years, the route to Nakléřov, Panenská and to Tisá has also become very popular. In the direction of Nakléřov, there is also a beautiful circuit around Jelení vrch.
The whole trail runs along roads so it's also suitable for walking or cycling in the summer months. There are many trails and marked hiking trails which are connected to this trail.
Ski school
There is a ski school right next to the guest house, which has its own ski lift and a children's area. Experienced and professional instructors will take care of your children.
The ski school offers both individual and group lessons or lessons for schools and kindergartens.
For more information click HERE
Ski rental
Ski equipment can be rented or adjusted in the rental office, which is also part of the ski centre.
For more information, click HERE